Work with our design team to create high quality designs that will help you stand out in the crowd!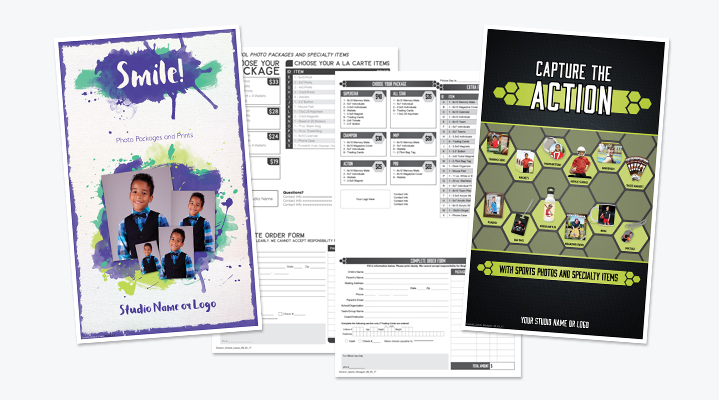 Pre-pay & Proof Envelopes
Full color 8.5×14 flyers with 6″ tear-off pocket. Printed using one of our preexisting designs, using your own, or providing an idea to the Design Department of what you'd like.
Need information for creating your own envelope designs? Learn more on our pre-pay & proof envelopes page, and log in to download our guide templates, blank images of our products, and more!
Submit Request Form
Use the online request forms located on this page, on the left, to submit your request to the Design Department. Make sure to attach all necessary files.
Review Design
When the design is ready, you will be emailed a link to a proof for review. In the online proof viewer you can designate any changes that are needed. If changes are required, you'll receive a new email link with an updated proof for review and approval.
Approve Design
Once you've approved the final version of your design, we'll send you the files or submit them for installation. You can then place your order for envelopes in ROES. If we're installing templates for you into the ordering software, you will be notified when your templates are available for use.
Turnaround for Design Services
The turnaround for your request starts once all required information has been submitted.
You will then receive your first proof within the designated turnaround time. Each additional round of proofs will have the same turnaround. View an example timeline here.
Our production schedule for design services operates Monday through Friday, with turnaround times applying to orders received before 4:00pm EST. Requests for design services submitted past the cutoff times will be processed the following business day.
A maximum of 20 changes are included in each round of proofs. Exceeding this number of changes will increase the turnaround time. We recommend that you review your proofs carefully and as soon as possible. The amount of time you take to review a proof can impact how quickly the project is completed.
2 Business Days
Revising an Existing Pre-pay/Proof Design or Template Set
3 Business Days
Custom Pre-pay/Proof or Template Designs
Template Installation Into Software
Rush Services
Requests for Rush Services will incur a fee of 50% of the order total per day needed early. Rush Services must be approved by the Design Department. You will be notified if we are unable to accommodate your rush request. Rush Services only apply to the turnaround of design work. They do not apply to software installation, printing, or shipping costs, nor do they impact shipping methods or transit/delivery times. To request rush services for printing pre-pay/proof envelopes, please contact Customer Service.
Design services are only completed Mondays-Fridays. The first day that a request submitted on a Friday (after 4:00pm EST), Saturday, or Sunday would be worked on would be the following Monday. Please consider your turnaround time carefully when submitting a request.
Pricing for Design Services
The initial design fee includes up to two rounds of proofs, additional proofs may have an increased design fee and will be at the discretion of the designer. Changes requested must be within the original design style. Any changes requiring the creation of new or separate design elements (such as custom product images and/or template designs) will result in additional fees. You will be contacted regarding any additional fees for approval prior to us completing your request. Orders will be billed when the design services have been completed or templates have been installed. The prices for design services does not include any printing or shipping costs.
Pre-pay & Proof Envelope Design
| | Design Fee |
| --- | --- |
| Verifying and/or Formatting a Design You've Created | N/A |
| Modifying a Stock/Existing Envelope Design | $10 per side edited |
| Creating a Custom Design | Starts at $30 |
| Creating Custom Product Images | $3 per Product |
| Proof Envelope Installation Fee | $10 |
Template Design & Ordering Software Installation Requests
Initial Design Fee
(Includes Proof 1 & 2)
Additional Templates
Verifying a Design You've Created
N/A
N/A
Reformatting Our Existing Template Designs for Other Products/Sizes
$3
$3
Template Modification and/or Reformatting for Designs You've Created (up to 10)
$30
$5
Creating a Custom Design
Starts at $60
$5
Installing Templates into the Ordering Software for Completed and Approved Designs
$1 per template/product
$1
Installing Templates into the Ordering Software for Designs You've Created
$1 per template/product,
$10 minimum
$1
Prices are reserved for Richmond Professional Lab account holders and are subject to change.
Generic Pre-pay & Proof Designs
These existing designs are available for you to choose from. We can modify them for you, or you can download and edit them on your own using Adobe InDesign. They can be downloaded above, under the Resources section, or you can request modifications to one of these designs by submitting a request form for Pre-pay and Proof Envelopes. We can modify the designs however you'd like! For example, if you like the style of one of the school envelopes and wanted to use it for sports, we could change the images based on your request.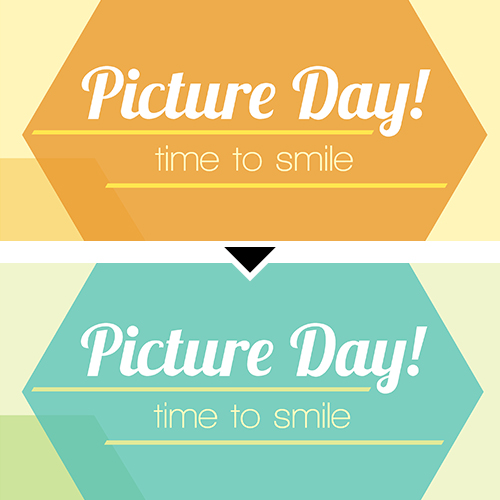 Change Colors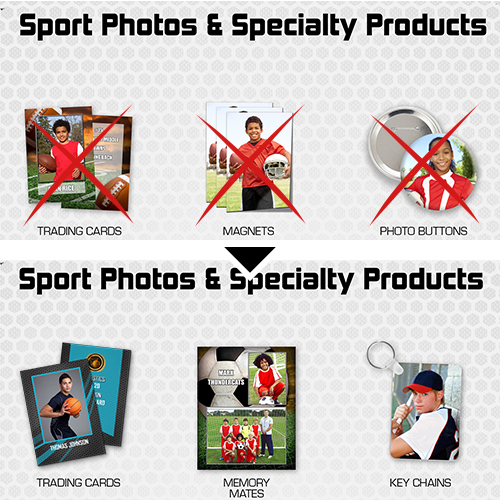 Customize Product Imagery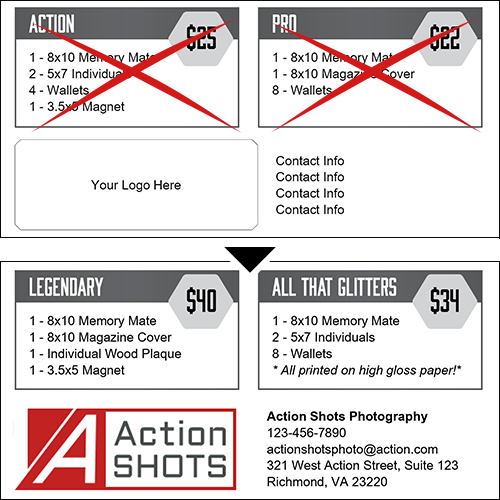 Add Your Information
Frequently Asked Questions
How long will it take me to get the finished product?
For pre-pay envelopes, once your design is finalized, we'll send you the files along with instructions for placing the order in ROES. After you've submitted the ROES order, the turnaround time for printing envelopes is 3 business days. You can view more information on shipping methods and transit times here. If you need your envelopes faster than the standard turnaround, please contact Customer Service as soon as possible via email or phone at 800-262-0515 ext. 105 to request rush services.
Pre-pay Envelope Design Services Example Timeline
Day 1: You submit your initial request.
Day 3: Receive edits to your requested form to review.
Day 4: You return with edits.
Day 6: New proof is sent with specified edits.
Day 7: You approve your form. We finalize it and send you the files.
Template Set Design Services Example Timeline
Day 1: You submit your initial request.
Day 3: Receive edits to your requested templates.
Day 4: You return with edits.
Day 6: New proof is sent with specified edits.
Day 7: You approve your templates. We send the finished files to the next step of the production process as needed (i.e. to be installed in the ordering software, etc.) based on your original request.

How do I start the process?
Log in and fill out the appropriate form listed under the item you're interested in requesting.
How much will my request cost?
Our pricing structure is available under each category above, and you'll receive a quote once you've submitted a form. Prices are subject to change if the level of services requested exceeds the guidelines listed in the sections above. If this happens, you will be notified ahead of time to approve the price quote. Your quote will not include any applicable printing costs, shipping fees, or additional software installation fees.
How long until I get a proof?
Your initial proof for you to mark with edits will be sent to you within 1 business day of your submitted form for basic modifications, and 2 business days for custom/new designs. Each proof following the first will take 1 business day.
What if I have a general question for the Design Department?
Please fill out the contact form below.
What file formats do you accept for envelope design requests?
Most typically used file formats are accepted, including Adobe Photoshop, InDesign, and Illustrator.
How do I order more copies of an envelope you previously designed for me?
If you need the files from a design we've previously created for you, log in and fill out the design services request form. Choose the option for reordering a design already on file, and indicate which file(s) you need. We'll then process your request and email you the files along with instructions for placing the order in ROES.
What do I need to know before creating my own envelope design?
If you're designing your own pre-pay envelopes, you'll want to log in download our guide templates located on the left side of this page. Since pre-pay envelopes have perforations, pockets, adhesive strips, etc., it's very important that you use our guide templates when creating your own envelope designs. This will help ensure that all of your information will print properly on the final product. If you're looking for blank images of our products to use on your designs, you can download those on this page as well. The final files for the front and back of your envelope should be saved separately as JPEGs, at 300 dpi, in the sRGB colorspace. You can also access this information and these downloads on our pre-pay envelopes page.
I've created my own envelope design, now what?
If you've created your own design using our guide templates, you can order your pre-pay envelopes in ROES. Choose the "Pre-pay Envelopes" catalog in ROES, and click on the instructional info graphic to view the steps for ordering this product. For further assistance, please contact Customer Service.
Can you check the design I've created to ensure it will print correctly before I order my envelopes in ROES?
Yes, our Design Team can always double check your designs to ensure they're formatted correctly before you place your order. Just log in and fill out the design services request form, choose this option, and upload your files. Please be advised that this option will follow the standard cutoff and turnaround times listed for design services. If we're just checking your design and not editing anything, there is no cost associated with this service.
Can you install templates or graphics that I've designed or purchased in the ordering software?
Yes, you can send us your templates and graphics and our team can install them in the ordering software for you. These templates and graphics will be available and visible exclusively for your account number. Read more information regarding the turnaround times and pricing for this service at the top of this page, and fill out the Template Installation Request form to get started.
How should I save the templates I've designed for you to install in the ordering software?
Save your files at the print/product size (i.e. an 8×10 team photo) at 300 DPI, as PNGs with transparent areas for the photo nodes. For specialty items such as bag tags, be sure to use our guide templates when creating your templates to ensure they'll be sized correctly. If you have any questions about sizing your files, please fill out the contact form below, or contact Customer Service.
Message the Design Department
Shoot us an email for ask questions regarding design services, including the design of your pre-pay envelopes, templates or any content list on this page!
Questions not related to design services, such as account information and shipping, will be re-directed to Customer Service. Contact Customer Service directly by email or view our Contact page for more ways to get in touch.
If button does not automatically open in your chosen email client, you can email us direction at designrequests@richmondprolab.com.