PRODUCTS, SERVICES, & PACKAGING
Volume Prints
We believe in keeping things simple, so our print prices are all inclusive. We don't charge additional fees for color correction, individual packaging and labeling, or the packaging materials. Unpackaged volume 8x10s are just $0.89 each, and volume 8x10s packaged and labeled individually by sitting are only $0.96 each.
Volume Packaging
When you place a volume order through FLOW, Blueprint, ROES Events, GotPhoto, or ProofPix, we'll package each sitting individually in paper window envelopes. Each envelope will be labeled with the subject's information (i.e. name, class/team, grade, etc.). We can also bundle your orders by class or team and label each bundle upon request at no additional charge.
Any oversized prints or products that won't fit in the envelopes will also be labeled with the subject's information. Options are also available for adding reorder form inserts/stuffers into each envelope. This makes it very easy to deliver your orders to the school or league.
Drop-Shipping
Drop-shipping is always available at no additional charge. Ship orders directly to parents individually, or ship an entire order to the school.
Specialty Items
Specialty items are huge sellers for sports! Choose from over 200 different products to boost your sales and keep your customers coming back for more. Some of our most popular sports products include: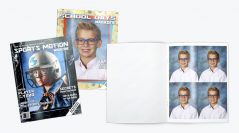 Package Books
These modern, magazine-style 8.5×11 books are perfect for sports! Customize the interior and exterior cover pages and choose the print package units you want on each page. Use them as bonus items to sell in addition to your traditional print packages! Sell ad space or promote special offers, reorder info, studio contact info, etc.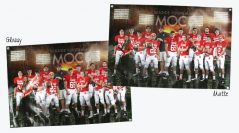 Vinyl Grommet Banners
Vinyl Grommet Banners- Single-sided. Available on 13 oz. (Glossy or Matte) and 18 oz. (Matte) vinyl. Edges are folded and sealed. Metal grommets approximately every two feet along edges. Durable, all-weather vinyl material; perfect for indoor or outdoor use. Custom sizes available (the largest width is 50 inches).